Celebrate Garifuna Settlement Day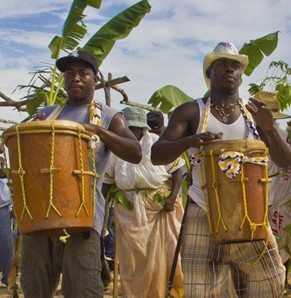 November 19 is a special holiday in the country of Belize — the Garifuna Settlement Day. The Garifuna, locally known as Garinagu, are mixed with Arawak Indian, Carib Indian and African people who were considered to be enemies of the British during a series of Carib wars in the 1700s. This led to their exile to Roatan from St. Vincent which was uninhabitable at that time. From here, they made their way to the mainland and eventually settled along the Central American coast.
Belize is home to many Garifuna villages, including Punta Gorda, Dangriga and Hopkins. The Garifuna culture is a very important part of the history of Belize that even UNESCO recognizes it. In fact, in 2001, UNESCO proclaimed the language, music and dance of the Garifuna as a 'Masterpiece of the Oral and Intangible Heritage of Humanity' in Belize, Honduras and Nicaragua.
In the week that leads up to the 19th of November, events and celebrations are held all over the country to share and recognize the importance of the Garifuna culture. Below is a look at several of the annual events that you can expect to see on your next Belize vacation.
Garifuna Reenactment Ceremony in San Pedro, Belize
Ambergris Caye holds a yearly annual reenactment ceremony on the 19th, but there is one held a few days earlier for the elementary schools in town. This is an afternoon filled with singing, drumming and the reenactment of the Garifuna landing in Belize for the first time. The Central Park is filled with school children and tourists. After the arrival of the Garifuna in the shores of Belize, the participants will parade down the streets of San Pedro, drumming and singing along with the elementary school marching band.
Battle of the Drums in Punta Gorda, Belize
In this event, villagers from all over the country, along with a number of international teams, meet to showcase their artistry and skill in five different kinds of Garifuna drumming. This event is always held the Saturday before the 19th. People come from all over Belize to attend this evening event and support their favorite local villages and teams.
Garifuna Celebrations in Hopkins, Belize
One the eve of the Garifuna Settlement Day, villages throw big parties and stay up all night before they head straight to the reenactment ceremonies. Punta is a style of Garifuna music and dance usually performed during celebrations and other festive events. The dance is easy to spot since it involved a lot of buttock and hip movement while the torso remains motionless. At times, couples can delve into a seductive style of dancing.
Garifuna are not only experienced and appreciated during the 19th of November. Aside from all the events and celebrations held around the Garifuna Settlement Day, travelers to Belize can also experience Garifuna culture all year round. If you visit one of the traditional villages, you can observe their cultural traditions, enjoy their local food, and even take a drum lesson.